There are several options for replacing missing teeth, but none of them compare to dental implants. Made from medical-grade titanium, these small, screw-like posts mimic the natural tooth root to preserve jawbone density. This is incredibly important for preventing bone loss which causes unwanted tooth movement and facial atrophy.
Replacing a missing tooth or teeth doesn't mean patients have to settle for a restoration that is less than functional and aesthetically pleasing. Implants can be used in conjunction with crowns, bridges, and dentures. The difference is that dental implants make these restorations feel and function just like your natural teeth.
Our doctors at Rio Rancho Smiles excel in complex dental procedures like dental implant placement and strive to provide every patient with the best dental experience.
Candidacy for Dental Implants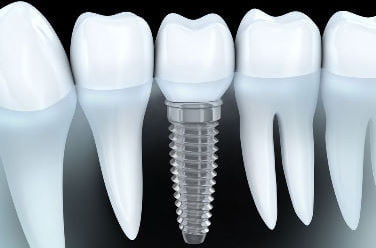 Patients with missing teeth who are free of gum disease and cavities are excellent candidates for dental implants. Qualifying patients should also have sufficient bone density in the jaw.
If oral health problems are present, our dental team can perform procedures to treat decay and gum disease prior to implant treatment. Additionally, a bone grafting procedure may be an option for preparing your jawbone to receive the implants.
Once your teeth, gums, and jawbone are healthy, we can move forward with the dental implant procedure.
Benefits of Dental Implants
Here are a few reasons why dental implants are the most sought-after restorative option in dentistry:
Improved Oral Health
The most significant advantage of dental implants is how they improve oral health. Unlike dental bridges, there's no need to remove any natural tooth structure – a process that can lead to problems down the road. Dental implants also stimulate the jawbone and reduce the risk of atrophy.
Enhanced Chewing Function
No other dental restoration offers the strength of a dental implant. Eating can be difficult when one or more teeth are missing – even more so if you have a loose denture or bridge. With dental implants, chewing will feel natural again.
To arrange an examination at Rio Rancho Smiles to talk about Dental Implants, Call at (505) 994 9693 Or Schedule An Appointment Online .
Improved Appearance and Confidence
Having one or more missing teeth often leads to low self-esteem. This often reveals itself when a person covers his or her mouth while laughing or is hesitant to speak up in group settings. Our high-quality materials and keen eye for detail will ensure that you feel confident enough to show up and show off in any situation.
Additionally, having just one missing tooth can significantly change the shape of your face. As the jawbone begins to deteriorate, your facial features will start to sag, making you look much older than you actually are. Replacing the tooth root eliminates this problem and undoes any damage by promoting jawbone regrowth.
Stability
Denture-wearers know all too well the embarrassment that comes from a loose appliance. With dental implants, you never have to worry about painful rubbing, loud clicking, and inconvenient slipping. The implant ensures that any restoration is completely fixed, even if it is removable.
Reliability
Countless studies have shown that dental implants are the most successful and reliable tooth replacement options available. The biocompatible titanium makes this option incredibly safe for virtually all patients. When dental implants are placed correctly and are taken proper care of, they offer a lifetime of benefits.
Schedule Your Dental Implant Consultation
If you're ready to experience the life-changing benefits that dental implants have to offer, call our Rio Rancho Smiles dental team today at 505 994 9693 to schedule your dental implant consultation.