When infection infiltrates the pulp of a tooth, dental extraction is sometimes required. In most cases, however, extraction can be prevented with root canal therapy. This procedure allows patients to keep their natural tooth structure intact while still eliminating the infection.
At Rio Rancho Smiles, our expert dentists use advanced dental technology to deliver conservative root canal treatment. In addition to utilizing gentle techniques, we also offer two dental sedation options – nitrous oxide and oral sedation – that help patients relax throughout the procedure.
Signs and Symptoms of a Root Canal Infection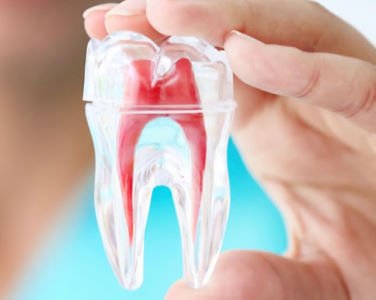 Root canal infections occur when bacteria, caused by a cavity, loose filling, or trauma, reaches the inner layers of a tooth. The infection leads to inflammation, which irritates the nerves inside the tooth, causing pain and discomfort.
Additional symptoms of a root canal infection include swelling of the nearby gum tissue, increased dental sensitivity, and irritation during and after eating or drinking. In some cases, patients may be asymptomatic. For this reason, routine dental visits are important. During an examination, your dentist can often detect potential problems before they start.
To prevent a root canal infection, practice good oral hygiene habits at home, eat properly, and visit our dentist's office twice a year for regular dental cleanings and exams. At Rio Rancho Smiles, we accept most insurances and offer affordable payment options and specials for patients without insurance.
The Root Canal Treatment Procedure
Root canal procedures are considered dental emergencies. In many cases, the pain is so debilitating that patients find it difficult to function. We schedule every root canal treatment as soon as possible to ensure that the infection does not spread to nearby teeth or other oral structures.
To arrange an examination at Rio Rancho Smiles to talk about Root Canal Therapy, Call at (505) 994 9693 Or Schedule An Appointment Online .
Upon arrival to our office, one of our dental team members will lead you to one of our comfortable operatories. The doctor will then administer local anesthesia to numb the area and ensure your comfort. If requested, sedation can be provided as well to induce feelings of calm and relaxation. Be sure to talk with one of our dentists about your sedation options before the procedure.
When you're ready, our dentist will create a small access hole into the top of the infected tooth. The diseased tissue is then removed, and the cleared-out cavity will be cleaned and sanitized. Gutta-percha, a natural polymer, is used to fill in the empty tooth, and the dentist will place an inlay, onlay, or crown to seal it and prevent the return of infection.
We provide every patient with specific recovery instructions that promote a quick and simple healing process. Patients can expect to feel sensitivity in the root canal-treated tooth for the first few days following the procedure. Any pain should subside after taking over-the-counter pain medications. Patients should brush, floss, and rinse with mouthwash as usual to prevent the infection from reoccurring.
Experience Relief from Your Root Canal Infection
If a root canal infection is left untreated, patients will continue to experience severe pain and the infection will spread to other areas of the mouth and body. At this point, dental extraction may be the only possible treatment.
At Rio Rancho Smiles, our doctors have successfully performed this endodontic treatment for years. We strive to provide our patients with the most comfortable, stress-free dental care experience.
Contact our friendly dental team today at 505 994 9693 to schedule your root canal treatment as soon as possible.